Skill Level: Advanced beginner to Intermediate
This 90 minute class is jam-packed with Instruction, Ideas and Inspiration.
Please join me and learn how to make these, extremely versatile and fun to wear, Magnetic Pendants.
Nouveau: Nous avons maintenant traduit la narration du vidéo en français. Voir plus d'infos ci-dessous.
Once you enroll, the first 3 videos and the Materials List PDF can be viewed for free. Purchase the class, ($20 US), in order to see the remainder of this fast-paced tutorial full of detailed instruction, clear visuals and beautiful examples. You will love wearing your creations!
Your purchase entitles you to unlimited views of the class. These videos can be downloaded for off-line access.
100% money back guarantee within 30 days of purchase.
---
Nouveau: Nous avons maintenant traduit la narration vidéo en français. Notez que ce n'est qu'une traduction approximative qui a été faite en utilisant Google Translate et n'est pas une version française de cette classe. Nous espérons qu'il sera utile aux utilisateurs francophones qui ont de la difficulté à suivre la vidéo.
La traduction des sections Introduction et Essentiels du projet est disponible gratuitement pour que vous puissiez voir si la qualité est adaptée à vos besoins.
Our first review:
Thank you so much. I spent last night watching everything and LOVED IT!!!!
The class was extremely well done with the video lengths and content just right - I never found myself wanting to fast forward through it. Plus Helen's commentary has the right touch of humor and helpful tips to keep you engaged from beginning to end.
I also appreciate how much time and effort went into the crafting of the series. You thought of just about everything and took the guess work out of figuring out what techniques were used in each piece and which video it was on! Brilliant!!! And the PDF resources are fabulous.
Oh, and the price is a steal. Many other education sites charge FAR more with much less content. KH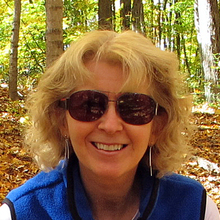 Artist, instructor and course creator, Helen Breil has been working with polymer clay for over 20 years. My goal is to give you the best possible learning experience. To learn more, go to HelenBreil.com
1

Introduction To The Class

2

Project Essentials & PDFs

Magnets and Adhesive Instructions

Important note about replaying videos

3

4. Top Layer - Colouring - Surface Technique 1 (3:38)

5. Top Layer - Adding a Black Border (1.51)

6. Top Layer - Final Details (3:15)

7. Bottom Layer - Brushed Metal -Surface Technique #2 (4:24)

8. Bottom Layer - Edges, Sealing, & Examples of Surface Technique #2 (6:55)

9. Bottom Layer- Black Border Layer and Embed Magnets (7:20)

10. Add Zipper and Connecting Piece (6:27)

11. Attaching the Magnets (8:54)

12. Connecting Top & Bottom, Adding the Focal Point, Alternatives to Magnets (3:47)

13. Stringing Examples: Ideas for Magnetic Connections (7:31)

4

14. Surface Technique # 1: More Texturing Ideas (5:44)

15. Surface Technique # 3: Textured Lines (9:53)

5

16. Pendants 2 – 7 (8:25)

17. Pendants 8 – 14 (6:51)

18. Pendants 15 – 21 (4:33)

6

French translation / traduction française

texte de narration français

9

Thinkific help - Information on using this learning platform

Saving PDFs t o iPad with Chrome

Saving PDFs t o iPad with Safari