Skill Level: Advanced Beginner and up
In this 50 minute class, detailed instructions are given for constructing this unique and elegant pendant design with 3 shape variations.
Instructions for a beautiful crackled pattern surface technique are also included.  
An interesting design can really enhance the beauty of any great surface technique you create.  And the bisected shape allows for more creative possibilities. This loop design results in a striking pendant with that sought after "wow" factor.  
Please join me to learn how to make these elegant and unique loop pendants.
Enroll and see video 1 for free.  It will give you an overview of what is covered in this class.

Purchase the class, in order to see all 9 video's full of detailed instruction, clear visuals and beautiful examples. Your purchase entitles you to unlimited on-line views of the class. Your purchase can optionally also be downloaded for off-line access. 100% money back guarantee within 30 days of purchase. 
  If you are a member of a guild:
Interested in arranging a guild discount and/or

Using this or any of my video tutorials for a virtual workshop
Please contact me for more information: [email protected]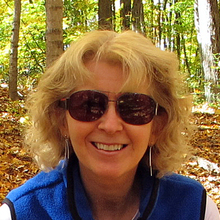 Artist, instructor and course creator, Helen Breil has been working with polymer clay for over 20 years. My goal is to give you the best possible learning experience. To learn more, go to HelenBreil.com
2

2. Project Essentials (3:23)

Materials List (updated Jan 4, 2020)

Policy-Copyright Statements

3

Pendant Construction and Gallery

6. Sealants and Edges (5:44)

8. Crackled Pattern Surface Technique (10:47)

9. Gallery of Designs (3:34)

6

Using the Thinkific Platform

Thinkific docs to iBooks in Chrome

Thinkific docs to iBooks in Safari